Improving Bioavailability & Solubility
Given that a large number of drugs fail to reach the market due to poor solubility and bioavailability, the industry is seeking various methods to mitigate this challenge while many choose to re-formulate existing product candidates. Either way, the demand for novel bioavailability and solubility enhancement methods has grown significantly. To cater to this increasing demand, several contract manufacturers and technology developers have emerged. In this excerpt from a Drug Development and Delivery article, Dr. Robert Lee, President of the CDMO Division of LLS Health, discusses nanomilling, novel excipients, and modeling technologies for improving bioavailability.
Nanomilling Enhances Dissolution Rates
Manipulating particle size/morphology is proving successful in improving solubility. Reducing particle size, most commonly through nanomilling, increases specific surface area, leading to enhanced dissolution rate. "Lubrizol Life Science (LLS) Health has found nanomilling to be an effective, scalable, and reproducible process," says Robert W. Lee, PhD, President, CDMO Division, LLS Health. "We are the only CDMO capable of performing nanomilling under aseptic conditions and can take our clients into commercial production. Traditional milling equipment is not set up for aseptic processing, but LLS Health's SteriMillTM was specifically designed for this purpose."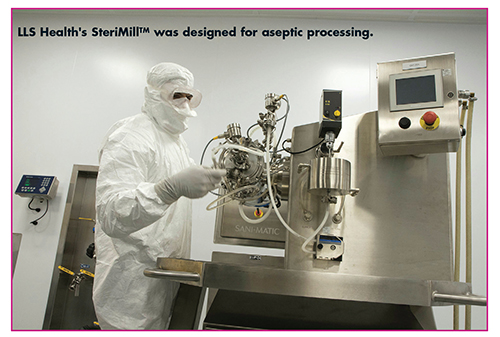 Lubrizol's proprietary SteriMill technology employs high energy media milling (nanomilling) to reduce particle size and increase the dissolution rate of poorly water-soluble APIs. The technology uses Lubrizol-developed equipment that enables the aseptic production of nanosuspensions from R&D through commercial scale.
Proprietary Excipients and Technologies Can Solve Bioavailability Issues
One LLS Health client was seeking to match the pharmacokinetic profile of a rectally administered gel, containing a DEA schedule IV API, with a nasal spray formulation. "We were able to formulate the poorly water-soluble API (aqueous solubility of 50 μg/mL), along with a proprietary permeation enhancer in a solution formulation with equivalent bioavailability when dosed intranasally," explains Dr. Lee.
Modeling Accelerates Complex Drug Product Development
LLS Health has also used computer modeling to predict the flux of an API out of a non-bioerodible drug eluting device. "With knowledge of the API's solubility in the polymer and its molecular diffusivity, the elution rate of the API can be accurately calculated," he explains. "LLS Health also has models to predict stability of electrostatically-stabilized colloidal suspensions as a function of ionic strength. As long as the technologies expedite the drug development process and provide a better outcome, they are useful and warrant consideration."